NOTE:  This post is part of an ongoing education series.  This information is for educational purposes only.  This information does not constitute investment advice.  No rational person would make investment decisions based on a blog post.  Please consult with your financial advisor before taking any action.  From CNN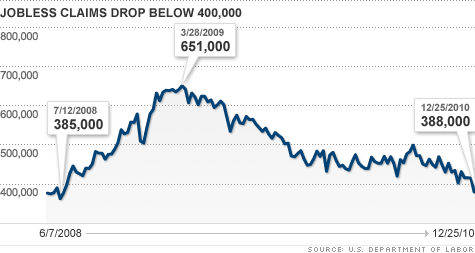 Job news has ben mixed but slightly positive for the past year or so.  It would be even better if the unemplyment rate droped. 
The report marks the first time claims have broken below 400,000 since July 2008 -- two months before the financial crisis peaked with the Lehman Brothers bankruptcy.

"It's impressive to finally see unemployment claims fall below 400,000," said Stuart Hoffman, chief economist with PNC Financial Services, who said that if there were a magic number for unemployment claims, 400,000 would be it.
We are still at risk untill more people get jobs.